---
About this item
Electric Lifting System: The motor equipped to sit and stand desk can offer smooth height adjustment from 28.3" to 45.7" (tabletop included), it is ergonomically designed to liberate you from sedentary work and drive, and get rid of the pain on neck, shoulders and lower back after a long period of sitting. Except for office use, it is also suitable for a family to use, setting, and memorizing different heights for family members, like studying, working or game playing.

Digital Control Panel: The digital panel responds quickly and the heights will be displayed on it when the desk goes up and down. There are 4 buttons on the panel to memorize the desk heights by long-pressing it, catering to different modes of usage, and it will be a breeze to be at your desired height when you change working postures or use the desk next time.

Quiet Motor and Anti-Collision: The motor is made of good quality and each has been tested before assembling unto the desk, it works very smooth and quiet, so you will not disturb others when adjusting the height. There is an anti-collision system built in the desk, if there is an obstacle or pet under the desk during the height moving down, the desk will stop first and then move upwards, and vice versa. So it can ensure security in use and also protect the motor's service life.

Large Wood Table Top: The desktop is made of high-class solid wood with round desk corners, and the table surface is in a wood pattern that is fashionable and aesthetically pleasing. Please note the tabletop consists of two pieces, it is not come in one complete piece. But the tabletop has large enough space to place stuff, like computer, notebook, working files, printer, and other office supplies.

Sturdy Desk Leg: The desk legs are box frame structured, though it is made of steel material, it is not that heavy, it offers stableness and sturdiness in use. There are feet at the bottom of the desk legs, to balance the desk on the ground. The desk is easy to assemble with instructions and tools inside, if you have any questions in use, please directly contact our customer service.
Electric Standing Desk - Offers you the most popular and healthy way to work
Whether sitting or standing, the Victone electric standing desk provides

 you enough support and the right height.
The lift height is adjustable from 72 -116cm (28.3 - 45.7inches), which meets the

 needs of people of different ages and heights.
Four levels of height memory, by long-pressing the number key to save

 the current height, convenient for your family to use.

Stylish and modern designed desk - suitable for all situations
The all-metal frame with frosted black, and wide desk 

with exquisite wood grain, can be perfectly qualified for its work, no matter in office, study, or living room.
Our standing desk is ergonomically designed to liberate you 

from sedentary work and drive, and get rid of the pain in neck, shoulders, and lower back after a long period of sitting.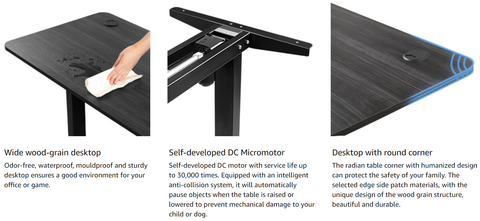 Under the quick working pace nowadays, people usually need to sit at the office desks for long periods of time, and you probably know how uncomfortable it can be, your shoulders, spine, and lower back can start to feel the pain and pressure over time, and it might impede the thoughts and ideas from flowing onto the desk. To change these negative impacts, we build the auto standing desk with these problems in mind to help counter the fatigue felt, and give you a new healthier office working way.
Our brand new electric standing desk is made of higher quality materials. The desk has a thick solid wood top and strongbox frame steel legs, which is very sturdy and durable to use, and the tabletop is large enough to contain a computer, notebook, work files, and other office supplies, even a printer. The desk height is adjustable from 28.3" to 45.7" and the digits can be shown on the digital panel. There is 4 height memorizing buttons on the panel that can preset your desired heights of different working modes, so you can start to work quickly and effectively. Also, there is an anti-collision system built in the desk that help keeps people safe and protect the motor, if there is an obstacle under the desk or any heavy force placed on the tabletop during its height movement, the desk will stop first and then move to the opposite direction.
This auto standing desk can cater to people's different working modes and family members use, it is very convenient to change the desk height, taking away the pressure and pain from a long time sitting or driving status, and it is affordable. Please try our Victone electric standing desk, it will be a great choice for you.
Specification:
Material: Solid wood table top & Steel legs
Table Top Dimension: 44" (L) X 24"(W)
Desk Leg Dimension: 23.6" (W) X 45.7" (H)
Adjustable Desk Height: From 28.3" to 45.7"
Weight Capacity: 150lbs.